Why Healthcare Providers Should Utilize a Repricing Medicare Claims Tool for Greater Pricing Transparency
The healthcare industry has long struggled with pricing transparency and accuracy, leading to confusion and frustration for patients. However, the recent CMS report highlights the efforts of hospitals and health systems to implement price transparency policies to help patients understand their costs.
According to CMS, a higher percentage of hospitals in 2022 (70%) complied with both the display of shoppable services information in a consumer-friendly manner and the machine-readable file requirements, compared to only 27% in 2021. Further analysis shows that the compliance rates for each requirement were even higher, with 82% of hospitals meeting the display requirement in 2022 (up from 66% in 2021) and 82% meeting the machine-readable file requirement (up from 30% in 2021). These figures indicate that hospitals made significant strides in implementing the requirements, despite the challenges brought on by the COVID-19 pandemic and workforce crisis in 2021.
Regrettably, various third-party organizations have repeatedly made claims about hospital compliance rates with federal price transparency policies that are not based on factual information.
This is where CMSPricer comes in as a game-changer.
CMSPricer is a Medicare repricing solution designed for payers, PPOs, TPA's, BPO's, self-funded employers and auditing firms that helps to improve pricing accuracy and transparency. Here are some of the key benefits of using CMSPricer:
SaaS-based Solution: If you're looking for a web-based solution that provides quick results at 100% of Medicare rates, you're in luck! CMSPricer offers Hand Key Entry or Auto Batch/EDI Uploads, and easy imports/exports. Plus, you can trust the data privacy compliance by CMSPricer, because no PHI or claims data is ever stored. This system utilizes contemporary cloud-based security measures, including an EV SSL Certificate, 5HA2, and 2048 bit encryption – the strongest encryption available on the market. In addition, this SaaS-based Medicare repricing system is fully compliant with HIPAA and ANSI 837 version 5010 regulations, which means you can rest easy knowing that your data is secure. Every user gets their own secure login and account, providing an added layer of protection and ensuring a peace of mind that comes with secure, compliant medical billing.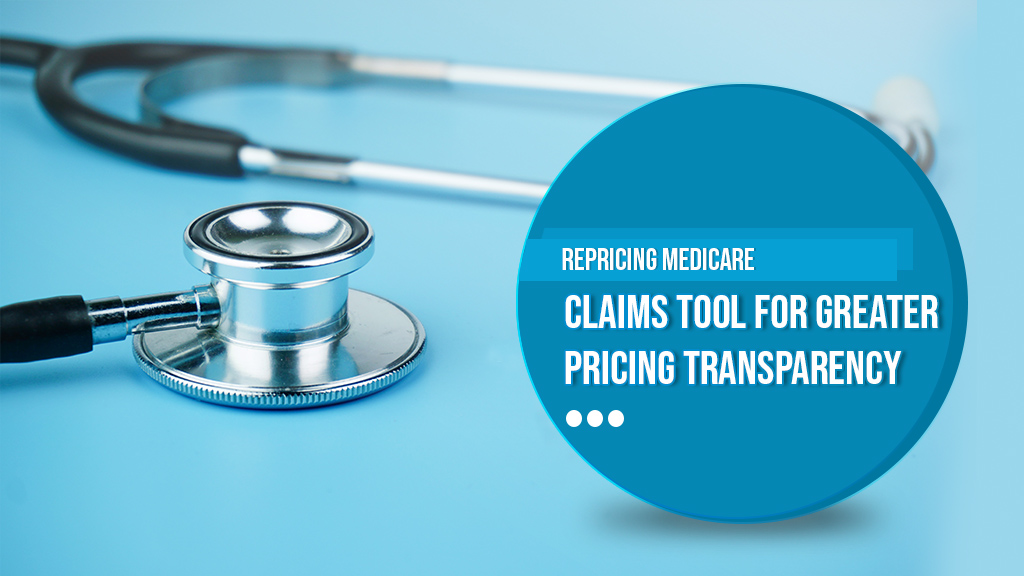 Repricing Medicare Claims: CMSPricer utilizes the latest data to ensure that Medicare claims are repriced accurately and transparently, providing TPAs and auditors with greater control over their pricing.
Time-Saving: With the automation of the repricing process, TPAs and auditors can significantly reduce the time required for manual processing, improving efficiency and reducing the risk of errors.
Cost-Effective: By identifying opportunities for cost savings, CMSPricer can help TPAs and auditors to reduce their overall costs, ultimately leading to greater profitability.
Compliance: With the ability to ensure compliance with CMS pricing transparency policies, CMSPricer can help TPAs, auditors avoid costly penalties and reputational damage.
With our top-of-the-line SaaS Medicare claims repricing system, you can enjoy a hassle-free experience without the need for any software installation or complex contracts. We take pride in being a USA-owned and operated company, ensuring that you receive 100% on-shore resources.
To Conclude:
Our SaaS Medicare claims repricing system is designed to provide accurate and reliable results every time, giving you peace of mind when dealing with your claims. Whether you prefer easy manual entry, batch processing, or API integration, our system can handle it all effortlessly.
By utilizing this SaaS-based repricing system, healthcare providers can improve patient satisfaction, reduce costs, and comply with CMS policies. So, if you're a TPA, self-funded employer, payer, or auditor looking to improve your pricing accuracy and transparency, trust us to provide you with the most seamless claims processing experience possible.